The Power of Pull:
How Small Moves, Smartly Made, Can Set Big Things in Motion
by John Hagel III, John Seely Brown,
and Lang Davison
Order from Amazon.com
LEARN ABOUT THE POWER of PULL

Register for the Edgeperspectives Newsletter below:

PRAISE FOR THE POWER of PULL
"The Power of Pull examines the 'how question' – how can we effectively address our most pressing challenges in a rapidly changing and increasingly interdependent world? In The Power of Pull, John Hagel, John Seely Brown, and Lang Davison highlight fascinating new ways in which passionate thinking, creative solutions, and committed action can – and will – make it possible for us to seize opportunities and remain in step with change."
— Bill Clinton
"The Power of Pull will do for our 21st-century information-age institutional leadership what Peter Drucker's The Concept of the Corporation did for industrial-era management. This book begins to create a body of learnable principles that will revolutionize our ability to access and work with knowledge flows."
— Newt Gingrich
"Connecting many important threads through beautiful metaphors and wonderful narratives, the authors provide both a mind expanding view of how the world is changing and a solid framework and context to approach the future for anyone interested in surviving and enjoying it."
— Joichi Ito, CEO of Creative Commons and Internet venture investor
"In times of unprecedented change, we as individuals and institutions can have extraordinary leverage and influence if we marshal the passion, knowledge and resources necessary to achieve great things. The Power of Pull empowers and guides us to make the most of today's enormous possibilities."
— John Naisbitt, author of Megatrends
"Stop whatever you are doing and read this amazing book. The authors totally nail it. Digging beneath the surface of stuff that distracts us on a daily basis, they unpack the deep forces that really truly matter and provide a guidebook each of us can use to unleash passion, transform how and why we work, and restore destiny and dignity to our lives."
— Richard Florida, author of The Rise of the Creative Class and The Great Reset
"We live in a global village, where borders are blurred, where all humanity could and should be responsible for the well-being of others. The Power of Pull proposes fresh insights that coalesce into a powerful way forward in this new world. This erudite manual for change is a testament to the creativity and insight of its authors."
— Mark E. Tucker, former Group Chief Executive of Prudential plc, member of the Court of the Bank of England
"The Power of Pull is a roadmap of how to get from where you are now to where you really want to be. Read it and be inspired. (You'll probably want to surf too.)"
— Marc Benioff, CEO of Salesforce.com
"This brilliant and exciting book shows how to pursue your passions by harnessing the power of networks. Success no longer comes from possessing knowledge; instead, you have to participate with others in creating a flow of knowledge. The power of 'pull'—the ability to draw out people and resources for each endeavor—can transform both individuals and institutions."
— Walter Isaacson, President and CEO, the Aspen Institute, and author of Einstein: His Life and Universe
"This is a seminal work that explores the personal and professional implications of a powerful convergence of technologies, ranging from in memory databases for speed, massive parallel processing in the cloud, access via telephone for anything, anytime, everywhere. We are just beginning to understand what this means for us. The authors help us to understand where and how pull will change our lives and our work given the new digital infrastructures re-shaping our landscape. It offers us a roadmap that we neglect at our peril."
— Hasso Plattner, Founder and Chairman of SAP Supervisory Board
"The Power of Pull is a powerful new meme for navigating and networking in the 21st century. Any one of its 36 key questions (in the 'Bring It Home' sections) could change your life and the world."
— John Doerr, Kleiner Perkins
"The authors have given us a provocative and insightful look at the power of today's knowledge flow. If you want to meet the challenges of working and living in the 21st century, this book should be your guide."
— Eric Schmidt, Chairman of the Board and CEO of Google

THE POWER of PULL...
Pull is in the air. Everyone knows and loves Google. We pull movies and news items on demand. But this is just the surface of a more profound movement that is reshaping the world around us. The growing stress we all feel in our professional lives is not just a reflection of the current economic downturn. It reflects the mounting pressure we feel when we start to realize that our traditional ways of living and working are increasingly broken.
THE POWER OF PULL: How Small Moves, Smartly Made, Can Set Big Things in Motion (Basic Books; April 2010) by John Hagel III, John Seely Brown, and Lang Davison goes beyond the often distracting surface events and examines the deep forces reshaping our world. It helps us to understand that pull is far more than search or accessing media on demand. Drawing on stories and examples from around the world, the authors show us how pull can be more systematically used to shape serendipity. Harnessing the power of pull can also bring us together in new ways to drive more rapid performance improvement (the authors highlight such diverse arenas as extreme surfing and China's emerging large scale business networks) and provide powerful platforms to more fully achieve our potential. The authors also provide us with pragmatic migration paths to aid us in getting from where we are today to where we need to be in a world of pull.
Drawing on pioneering research, THE POWER OF PULL speaks to all of us as individuals in our personal and professional lives. At the same time it helps leaders of institutions to better understand how impact can be expanded well beyond the resources deployed. In the process, the authors provide a guide to connecting with personal passion and finally turning stress into success. They show that what we thought we knew about pull is just the tip of the iceberg, and uncover the real power of pull.
THE POWER OF PULL brings a tight, logical structure to our transformed world, integrating three waves of change, three levels of pull that are central to success and three elements of the journey we all need to take in order to master pull. Using real and diverse stories to illustrate the logic of the world in which we all now live, the book is a compelling primer to navigate a new landscape at work, at home, and at play.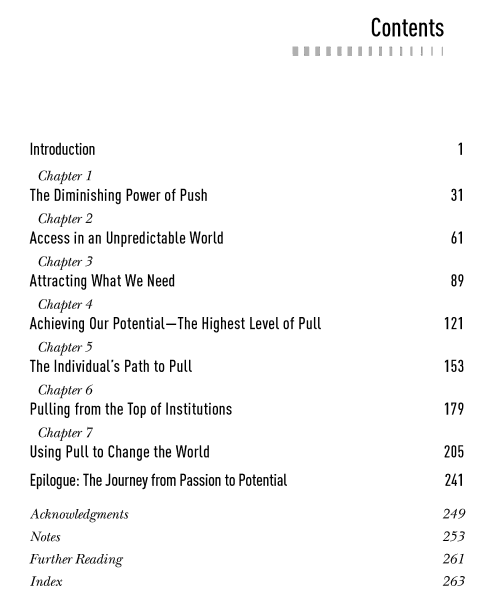 Order from Amazon.com >>
The book has already generated significant interest, including endorsements from Bill Clinton, Newt Gingrich, diverse corporate leaders and prominent "edgerati" who are exploring the frontiers of higher levels of pull.
The authors, as leaders of Deloitte's Center for the Edge, bring together an unusual combination of backgrounds and experiences.
John Hagel is a noted business strategist who has helped companies around the world improve performance and carve out sustainable edges.
John Seely Brown is a prominent technologist from Silicon Valley who has been deeply involved in the technology innovation that has shaped our digital world.
Lang Davison, as the former editor of one of the leading thought leadership publications in the business world, brings deep insight into how to weave together deep insights into compelling narratives.
Over the years, these authors have written a number of best-selling books, including Net Gain, Net Worth and The Social Life of Information.